It's so easy to feel that we are unworthy, that we are not enough, that there is something wrong with us. Thoughts of unworthiness and self-doubt seem to lurk around every corner we turn in life. It seems as though we are always being told were not good enough. By who? The media, our bosses, our peers, but mostly ourselves. You are worth everything and more, and your worth cannot be determined by any one situation or person. If someone were to offer you a $100 bill, you would take it, right? What if that $100 bill was wrinkled and warn, maybe it even had a tear or two, would that deter you from wanting it? No. The inherent worth of that $100 bill does not change because of it's past circumstances or current state, and neither does yours. You are not your mistakes, you are not your shortcomings, you are not your past. You are beautiful, you are important, you are heard, you are WORTHY.

(Proverbs 31:25) "She is clothed with STRENGTH and dignity, and she laughs without fear of the future."
Powered by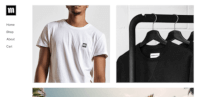 Create your own unique website with customizable templates.
Photo used under Creative Commons from bizmac