MailChimp (https://mailchimp.com/did-you-mean/)Burger King (http://alturl.com/tnepg) Jet.com (https://www.youtube.com/watch?v=JrVX37mc8eM)
​

Commercials are fascinating, there are so many tricks companies have to keep you watching and interested. Companies spend thousands, even millions of dollars a year for commercials. Some commercials I enjoyed were the creative ones that saved the companies money. MailChimp had many different sales tactics they used by using social media trends. They spent very little money promoting their brand online through social media compared to what it would cost for airtime on TV. Burger King used a TV ad however they were able to get viewers attention by hijacking their Google Home machines. Jet.com simply stated all the ways they were able to save money on advertisements this year such as, naming an online commercial "Super Bowl Commercial" and then uploading it to youtube during the super bowl, making it one of the most viewed Super Bowl commercials without having to pay millions for ad space during the sporting event. Sometimes it isn't about how outrageous or expensive and commercial is, but rather the thought and strategy put into the advertisement.
Powered by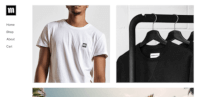 Create your own unique website with customizable templates.
Photo used under Creative Commons from bizmac