https://laoriginal.com


The LA Original campaign showed all of the beautiful parts of LA but I think it is missing a huge part of the city. I think the commercial tried to show Los Angeles and it's diversity, however it showed the beautiful and somewhat higher class parts of the city. The whole point of the video is to encourage people to support local business. One of the examples is sprinkles cupcakes, the $4 cupcake people will wait hours for. My suggestion for this commercial would have been to show the small "hole in the wall" taquerias and the beautiful colors of REAL street art rather than the murals paid for buy the city. LA is beautiful for many reasons, this campaign chose the wrong ones.
Powered by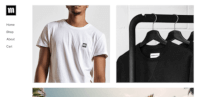 Create your own unique website with customizable templates.
Photo used under Creative Commons from bizmac